April 15th, 2009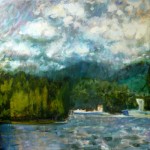 Tiko Kerr
 April 08/09 – May 03/09
Since 1981, Tiko Kerr has produced a number of solo exhibits both nationally & internationally and has participated in many group exhibitions and creative cultural collaborations. His work is widely collected and he has generated an impressive number of corporate commissions. As an activist, Kerr routinely uses his success to help raise funds for a variety of worthy causes and related charities.
In his most recent series of figurative and landscape works, Tiko Kerr examines the disparity that exists between what shelters different citizens of Vancouver, BC. The artist invites viewers to examine a variety of concepts of what makes a home and illustrates the ambiguous boundaries and unstable locations found within a city poised on the verge of global examination. 
A deeply profound exhibit that will leave you asking what else our government could be doing to aid the numerous individuals facing homelessness in our city/province.
3025 Granville Street
Vancouver, BC
V6H 3J9
604-681-4870