April 5th, 2010
I love my Nintendo DS Lite that I got for Christmas, I especially love the fact that my DS plays Game Boy Advance games! So many cool retro-games like Super Mario 3, Castlevania, Zelda, and Metroid, just to name a few that you can still find on eBay or craigslist. Personally, I find 'recently-released' games can't hold my interest and provide a challenge that's worth my money. Then I came across a great title that instantly peaked my curiosity; Dawn to Life 'The Next Chapter' by THQ coincidentally 'Best of E3' Winner 2009.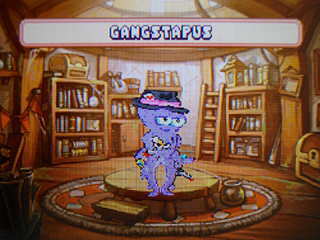 Looking at the box-art and the back it looked like a simplified version of Photoshop Illustrator meets Mario. I dropped about 40 dollars, picked up a copy, took it home, and Blamm-O! I was enthralled in the creative world of Drawn to Life! You couldn't get me away from the cursed device. My evenings after work mainly composed of drawing the next object needed to complete the level. From carrot surfboards, to inflatable-women platforms, I made a very surreal game of my own starring my own hero Gangstapus! He was a mean purple pimp octopus, with a Rolex watch, fedora and rusty prison shiv. The drawing palette that you use to create your hero is pretty straight forward with a build in 'help' button in case you don't recognize a certain tool. For the artist or anyone familiar with Photoshop they included some nice blending option tools that you can use to amp up your creation! The game also included an option to trade your creations with other users via WiFi connection, however you can only carry a maximum of two hero creations on the cartridge.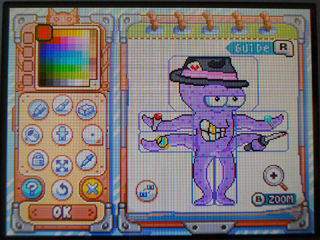 Overall the game itself is pretty linier, and takes no time completing it within a few hours if you choose the 'default' game objects to use. The content you provide as the 'Creator' is really the meat & potatoes that makes this title worth while to spend about 30-40 bucks on. For a long time now I've wanted my own side-scrolling game featuring my own creations and now I have it! 
Check out the official website here: http://www.drawntolife.com/
All images, logos, designs and trademarks are of THQ Inc. Licensed by Nintendo