November 27th, 2008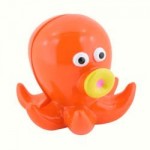 With Christmas just around the corner, I'm busy shopping and wrapping gifts instead of posting on my blog! Over the next few weeks I thought I'd share with my readers a couple of companies I purchase goodies from to wrap up and stuff in stockings for the big day! One company in particular that I make sure I purchase my stocking stuffers from has a really creative name, Made By Humans.
I firmly believe that when you're choosing a name for your company, you must choose a name that your consumers will be able to remember. Here's Made By Humans reason for choosing their company name which is pretty deep and profound: The name Made By Humans serves as a reminder. Our company no longer makes handcrafted products. But no matter how much we, as a company – and all of us together as a society – have come to rely on modern technology, humans are still meant to be in charge of that technology, rather than the other way around. Technology should be a mere tool for human purposes. Hence we try to be everything that machines typically are not: playful in our approach, imaginative in our ideas, creative in our designs, unpredictable, even downright whimsical – in short, just human, all too human.
The creative, crafty people at Made By Humans have tons of items for home and office use! I love neat, functional items that brighten up my otherwise gloomy cubical that are also inexpensive to boot. You can typically find their goodies at museum shops, gift stores, home décor stores, stationery stores, catalogue and promotional companies across North America. If you're on your way out the door to do a little shopping, make sure you pick up some amazing little items from Made By Humans!