Friday, April 17th, 2009
 
VS.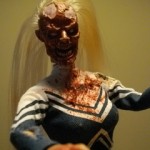 Oh by the way, they're both zombies!
Okay let's start off with 'The Street Prophet' from Sideshow Collectibles. This 'newer' model of The Dead Series has over 30 points of articulation, life-like hair/clothing, a cardboard sign and a whole array of other little objects a Hobo might carry. But I left out my favourite, the gnawed leg of one of his victims you can make him carry. While I love the little additions, it doesn't make up for the lack of uniqueness to the character profile.
The concept of a zombie Hobo could have been executed a bit better, though the life-like facial hair was a great touch. The body is where the Hobo seems to fall short on uniqueness. You can pull back the sleeves/jack and plainly see the joints and the different color of plastic. The clothing he's dressed in seems drab it's not stained or filthy like a Hobo should have. Heck, there aren't any drops of blood on the clothing either! And lastly, the feet do not seem to bend properly? Seems that the left foot bend from side to side, where as the right bends forward and back, but not side to side? I know, I know, this seems like a dumb strike against the Hobo but when you try to pose him in different stances you'll see what I mean. Maybe I want to turn his right foot inward while he's gimping along instead of the left.
So how do I rate this zombie action figure from Sideshow Collectibles, well I give him 7 moans out of 10! He's a great figure to take out of the box and pose on the shelf with all the accessories, but I wouldn't pay the extra bucks to get the 'Sideshow Exclusive' for the traveling bag on a stick.
Lurching her way toward you next is 'Bloody Betty' from Peril Unlimited. You can purchase a 'bloody' version or a 'clean' version, both are simply stunning. This figure also comes with realistic bimbo-bleach-blond hair, life-like cheerleader outfit and boasts over 30 points of articulation. My luck was with me when I placed the order, only to receive my 'Bloody Betty' in a body bag! That's right kiddies, a little body bag! Too bad they had to stop shipping them in the bags because of the extra custom fees the buyer had to pay to have an officer 'handle' the item. Get your hands off my Bloody Betty buddy!
Okay, so the Bloody Betty ships in a clear 'clam shell' case now that's fine, considering the money you'll save. The sticker price is almost HALF the cost of the Hobo, including the handling fee you might have to pay! All money talk aside, this zombie action figure is definitely a gem! The face is absolutely hideous, loose skin hanging off on the sides, a dead stare and patches of hair missing from her scalp. Plus you gotta love the sexy cheerleader figure, especially when there's mud and blood soaked stained knee-high socks. The attention to detail and care that the artist at Peril Unlimited took when crafting my Bloody Betty only added to the figures overall appeal and uniqueness. Who else would take the time to think; "What did Betty step in that got her cute little sneakers so dirty before she ate that dudes brain?" It's that kind of thinking that really launches a company in the right direction. Even with the lack of accessories (because we really could have used some pom-poms) Bloody Betty takes my heart away and probably takes a bite out of it!
The Bloody Betty zombie action figure from Peril Unlimited bites herself an 8 and a half fingers out of 10! Individuality sets Betty aside from the Hobo, for no two will ever be crafted the same. Cost, pay half the price for a superior zombie action figure! So there you have it 'Bloody Betty' from Peril Unlimited beats 'The Street Prophet' from Sideshow Collectibles with a severed limb for victory!