Sunday, November 30th, 2008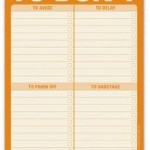 Continuing my little write up about 'Companies That Make Me Smile' is a little business called Knock Knock. A fantastic little business that sells a lot of neat stationary items, my personal favorite is the 'To Don't Note Pad'. You got to love that, especially if you're a procrastinator like yours truly. To put it simply, they sell fun functional items for home and office use. However there are a couple of items you should be careful taking to your office, if you're surrounded by a number of stuffy, politically correct co-workers.
About Knock Knock: Our sensibility is proudly distinct, in contrast to the overwhelming homogenization and conservatism that characterize committee-created corporate product. We believe that many people are intelligent enough to appreciate wit, wordplay, and conceptual thinking, so we strive not to dumb down as we create.
Can you believe there are only fifteen staff members? 15 very talented staff members who not only create the products and books, but oversee the logistical dynamics of manufacturing, sales, and distribution. Keep up the great work, and please check out their website: www.knockknock.biz !