Wednesday, May 6th, 2009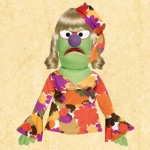 I stumbled across this website recently because I was looking for a new puppet. Yes, that's right a new puppet! Jim Henson's children were pretty darn smart to market their dad's Muppets for sale through the world-famous retailer FAO Schwarz.
The Muppet Whatnot Workshop is a fantastic idea! Make your very own Muppet, start by choosing from three different body types, eyes, hair and of course little outfits. You'll get your own Muppet creation in about 3-4 weeks and then you can start to put on your own puppet productions for your friends and family! I love this idea so much I'm waiting for a pay cheque before I go out and order mine. The Muppet Whatnots are made out of the same material and craftsmanship that the 'real' Muppets are made from, so you'll know where your $129.00 went. Trust me, it's far easier to pay a professional to make your own 'personalized' Muppet then going online to find a pattern, buy the materials and then spend your free time sculpting and sewing. Plus I'm not the best at sewing and I think I'd be a little disappointed after spending several hours stitching, only to wind up with a pile of crudely sown together rags and button eyes that will sit in the corner mocking me until I curb it!
Get started on creating your own version of a Muppet here at FAO Schwarz!