Thursday, February 26th, 2009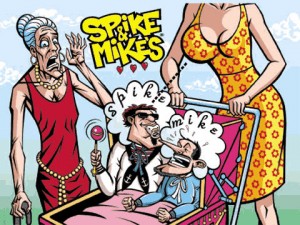 If you haven't heard by now, Spike and Mike's Sick and Twisted Festival of Animation is BACK! After a five year hiatus, the gang that brought you such memorable classics like; No Neck Joe, The Hangnail, Tongue Twister and of course Doctor Tran is back with an entirely new collection of their sickest stuff yet! Attending the Sick and Twisted festival is such a 'hoot'! I love the audience participation during the animated shorts, please be aware that there is some rowdiness during the show. Sometimes you'll smell something a little 'skunky' in the air to. Of course the festival is playing at a new location, so those people might not be able to get away with 'indulging' themselves during the show. Be safe people, save that kind of 'business' to do in the privacy of your own home!
Rio Theatre
1660 East Broadway & Commercial Drive
Vancouver, BC Canada
www.riotheatre.ca
(604) 879-3456
Feb 20/09 – March 05/09
Monday-Thursday 7:00pm – 9:00pm
Friday and Saturday 4:30pm, 7:00pm – 9:00pm
Sunday 4:30pm, 7:00pm – 9:00pm
For the entire festival tour schedule, click here
Tickets are ONLY available at the Box Office!